Water Damage Restoration Services
Water damage restoration, i.e. water extraction & floor cleaning, can be one of the singular most frustrating things to deal with as a homeowner. Because there are so many different potential causes of water damage, it's nearly impossible to prevent all of them, and of course, some water damage happens as a result of natural flooding - there's nothing you can do to prevent that.
And aside from the multitude of possible causes, water damage also creates infinitely escalating complications if not dealt with promptly. Even what seems to be only a bit of residual dampness can end up being an unsightly mildew or mold issue. These can be extremely dangerous to your family's health.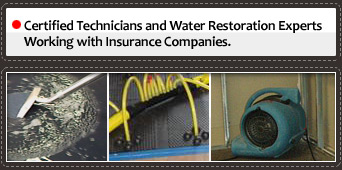 Water damage can have even worse consequences when unchecked flood damaged areas and the water left behind can cause rotting in the very support structure of your home. Even if molds and mildew can be removed, at least, from some surfaces and your home is still standing after a serious flood, that doesn't mean it's in the clear yet.
Emergency Water Extraction Service in Nashville, TN 37201
The basic rule for coping with water damage, large or small, is to call a professional immediately. Water extraction is very difficult to do yourself and achieve any sort of thorough success. Even if you do have equipment powerful enough to extract water completely, residential wet vacuums can't work fast enough to prevent even more damage from happening while you're trying to remove the water. Our services don't end with our high tech, high powered water extraction either-we offer a wide variety of further repair and cleaning services to completely resolve your water damage situation.

Even small leaks or seemingly inexplicable moisture can cause long term, costly damage. We know it takes expertise to identify what is a result of faulty construction and what is just an unexpected trick of humidity and temperature. That's why we offer free no obligation consultations, call us today at 615-346-9262.